In a world where social media and the internet rule all, should engineering and scientific companies still hand over large amounts of money and invest huge amounts of time in organisation to exhibit at trade events? Twenty years ago, the answer would've been a straight yes but now that the world has evolved the answer isn't as simple.
Exhibitions and trade shows have been dealt a serious blow over the last 18 months due to the pandemic bringing them to a halt in early 2020. Fast forward to Summer 2021 with the easing of UK restrictions and we began to see trade shows being announced left, right and centre.
What can an exhibition offer you?
Whether you are exhibiting or just visiting, trade shows provide the perfect place for face-to-face interaction, awareness of your business and lead generation. Despite the recent success of video teleconferencing technology, face-to-face communication is still unmatched.
An opportunity to generate high-value leads cannot be wasted, the people who are attending such events are there for a reason -they're motivated. This means that they are often looking for something, sometimes something specific, sometimes more general. They are willing to be sold to and could be interested in your companies' products and/or services.
When selling your products or services at an event more often than not you will have to follow up with leads post-event. Therefore, it is important to keep notes of all your interactions to act as a reference point for your next contact after the event. If you can generate a future customer than the show is already beginning to pay for itself!
TIP 1: Keep note of all your contacts to act as a reference point for your next communication
A trade show cannot only be a success in terms of the leads you generate but also how you strengthen your company image. It's a chance for event visitors and other exhibitors to become aware of who you are and your capabilities. The best way to do this is to set aside time prior to the event and figure out exactly how you want your company to be perceived. This can result in large levels of foot fall around your booth, ultimately increasing your chances of generating leads.
TIP 2: Choose your trade shows carefully.
The calander year is filled with engineering and scientific exhibitions focused on each and every industry, there is no way you will be able to attend them all, not without costing you an arm and a leg . Therefore, you need to handpick the events that you believe are the most relevant to your business and will result in the most valuable leads or help to introduce your company to a new industry or market..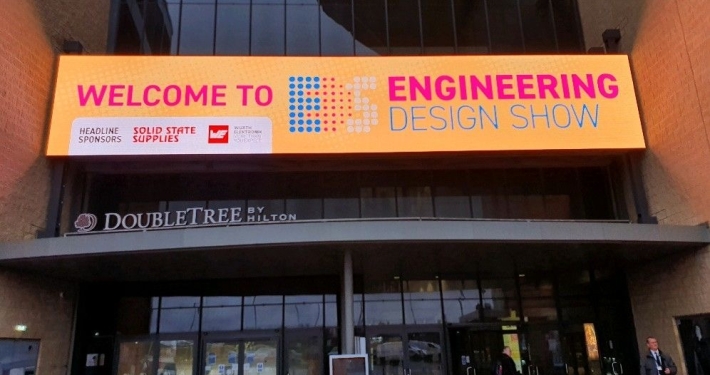 TIP 3: Preparation should never be underestimated
Before even stepping foot into the event hall(s) you should know your sales strategy like the back of your hand and how you are going to follow up with leads once the event is over. By having this prior knowledge, you will save time on the day ensuring that each member of staff knows what their role is and how they can do it effectively.
TIP 4: An exhibition is more than just the event itself
To reap the full benefits of a trade show you must take advantage of all the promotional activities ongoing both pre and post show. In the run up to the event you can announce any new or existing products / services that you will be showcasing at the event through industry specific publications or website. You can also take advantage of the event's hashtags with social media posts both in the run up to and during the event.
TIP 5: Don't put too much pressure on yourself
Make sure to enjoy the event and not put unneeded stress on yourself, it is more important to generate fewer high-quality leads than more low-quality ones. If you're then stressed anyone you speak to or pitch to will, instantly be able to tell and you are more likely to throw away an opportunity. It's more than likely that by securing one or two leads that materialise into more will pay for your event.
What's our involvement in B2B trade shows?
Since September of this year Aro PR and Marketing have exhibited at three B2B trade shows and visited a further two including: Interplas, the Engineering Design Show, Advanced Engineering, WEAF Aerotech Expo and the International Composites Summit.
What we can safely say is that no two events were the same. Whether that be in regard to the people attending, or the companies exhibiting, each show provided a fresh environment to shout about your business.
Billy McKenna, Managing Director of Aro PR and Marketing, said: "We have been attending engineering and scientific exhibitions as Aro PR and Marketing since the business started 10 years ago, all within a range of different industries. For some events we focus on generating leads with new potential customers, others we use to nurture existing relationships with current clients."
"Whether you want to generate new customers or simply increase awareness, exhibition shows allow you to target an audience who all share an involvement or interest within the focus of the show."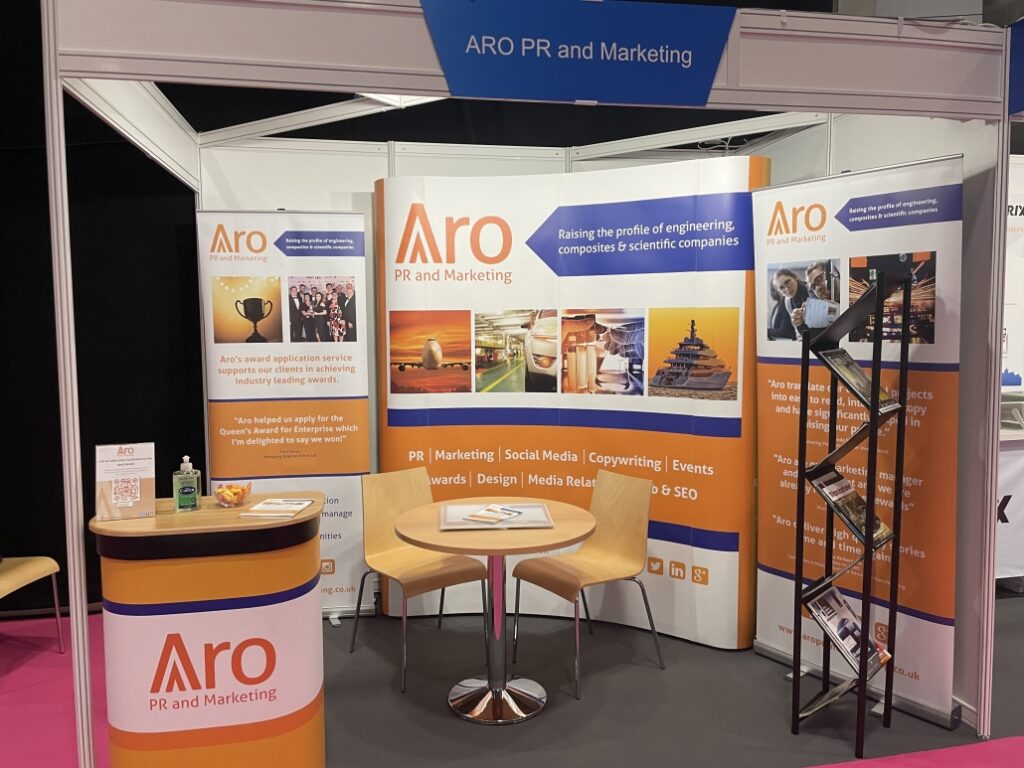 Whether you're planning to exhibit at an exhibition, visit or even host your own we can support and manage some, if not all, of the process for you. We have the necessary experience and knowledge from supporting organisers of exhibitions to large factory openings. Contact us today to find out more.