One question faced by a company once it has reached a certain size is whether to recruit an in-house marketing team or harness the skills of an established agency. The importance of a reliable and adaptive marketing team supporting a company, whether internal or external, can be the key to success by enabling the company to make a step change in its sales, perhaps augmenting a reliance on word-of-mouth. However, it is crucial to keep in mind that both resourcing strategies have their advantages and disadvantages, so it can be a difficult decision to make.
Successful uses of marketing channels result in more interest in the company and a better understanding of capabilities, which will protect sales, enhancing recruitment, attracting funding and ensuring long-term growth.
Smaller marketing campaigns typically cost less and either an agency or in-house team would be able to deliver results. Alternatively, larger scale marketing campaigns can be costly and require external resources. Either way, successful campaigns will generate huge brand awareness and capture the attention of higher numbers of potential and existing clients/customers/investors – bringing in potential leads across all these groups.
In-house marketing comes with the benefit that the work is being done by people who are exclusive to the company and understand it inside-out. Moreover, the team might have better insight when it comes to direct competition. There is also the added convenience that in-house teams are more accessible – they can be in the same building – making communication simpler. However, this point has been severely tested in the past couple of years with the increases in home working due to the pandemic.
A deep understanding of marketing channels, current technology and external resources is needed for an efficient and effective campaign, and this is where agencies can thrive, especially those that specialise in a particular sector. The work that is involved can be overwhelming for a small team of new in-house marketers due to how long it takes to gain the right experiences, assets and contacts.
For example, a specialist engineering agency only works within a particular industry or market sector which requires a deep understanding of these areas. Due to being in a niche sector, the agency must be equipped with professionals who are proficient in marketing and the sector. An in-house team during a hiring process may find that several applicants lack background knowledge of the industries needed and it will take time to induct that person. A skilled, experienced agency focusing on an industry or market sector will be able to make an impact immediately – and it can be easily switched on and off, unlike an in-house team.
Working with an agency can provide expertise in strategic marketing with experience in the field. Additionally, with the knowledge already obtained, an agency has a better understanding of tactics to implement during a campaign. Many agencies also offer their clients access to team members who specialise in certain areas of the business. Examples of this would include being experts in social media, PR, SEO, graphic design, and advertising.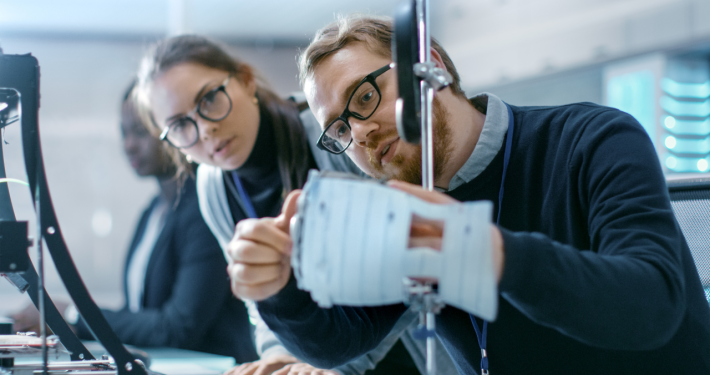 It is essential to contemplate the investment required for both resourcing strategies. With an agency, there are no extra costs for recruitment and training as an agency pays for that themselves, or add on costs such as NICs, holidays, office space, computers – the list goes on. On the other hand, for a company that is Recruiting its first marketing member of staff, they would have to budget for, they would have to budget for additional resources to augment their skills. No individual marketeer will have the skills or knowledge to cover every aspect of marketing communications – it is just too broad. It is also important to remember that in house teams cannot be turned on and off as easily as an agency if circumstances change.
For larger businesses, an in-house team can be a good long-term investment, but it can take time to build up the experiences and resources needed for satisfying results. Otherwise, working with an agency means that they would have marketing specialists helping them with their campaigns without the worry of certain challenges, like time constraints and lack of experience.
It doesn't have to be an either-or situation. More often than not, agencies form very strong and productive partnerships with in-house teams to boost a company's marketing abilities. One way of combining both would be to collaborate with an in-house team to enable them to establish their core skill set and outsourcing to an agency when more specialist skills or contacts are needed, or when the in-house team just needs some extra support. This solution is implemented by several medium sized organisations to get the best results.
An agency or an in-house team will be able to deliver prosperous results if they have enough time and ability. Having marketing professionals work with the company will encourage business growth and support in the development in their marketing strategies, reaching out to the individuals most important to the business – customers, staff and funders.
In conclusion, a hybrid marketing team provides the best of both worlds. To remain competitive in the marketing industry, agencies must stay up to fate with trends, software and SEO best practices. Due to working with different clients and industries an agency is more regularly introduced to new technologies and tactics. An agency will be able to display their knowledge and expertise which in turn, helps an in-house team develop their marketing strategies. By bringing an outside perspective, an agency can help an-in house team to realise their marketing potential.